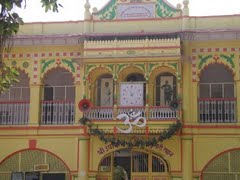 A preliminary report:
Yesterday, November 5th, I visited Shri Upasani Kanyakumari Sthan in Sakori, Maharashtra. I had long wanted to see if more information could be retrieved regarding the prophecy in 1939 made by Upasani Baba, of an avatar appearing in a European (Western) country. This was reported by Shri S. Subbarao, in the book The Sage of Sakori which is the source of all the information we have had until now.
"In February 1939 Shri Shankaracharya of Jyotirmath, Himalayas, paid a visit to Sakuri. . He had long talks with Baba on the subject of Dharma (religion), the present chaotic condition of the Hindu Dharma, the need for reform, etc. and expressed his regret that holy men were helpless to advance its cause. Circumstances were such that only an Avatara will be capable of reestablishing Dharma in the world. This interesting talk of the Swamiji evoked a sympathetic response from Baba who burst out with a prophetic announcement of the future Incarnation and his work. (pg. 189-190)

… In this connection [it] may be mentioned Baba's prophecy to Shri Shankarachara of Jyotir Math in February 1939; Baba declared that an incarnation will shortly manifest Himself on earth in a European country. He will be all powerful and bear down everything before him. He will see to it that Vedic Dharma is firmly re-established in India." (pg. 202) Sage of Sakori: Life Story of Shree Upasani Maharaj
Unfortunately, Mr. Tipnis (who had been alive on my previous visit to this Ashram in the 1980s) who was a great scholar of  Upasani Baba and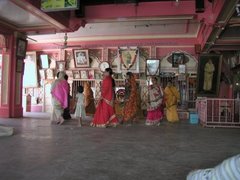 has now passed away, is no longer alive. I had hoped to talk with him about this. Gracefully, I was able to speak with to the last living of the original twenty-four Kanyas, personally accepted into his circle by Upasani Baba. Sati Lilavati Upasani Baba was the final of these twenty-four original Kanyas, coming to be a Kanya in direct association with Upasani Baba only in the last of his life. Kanya Lilavani came to Upasani when she was 14 years of age in 1940. She had just recently celebrated her 92nd birthday.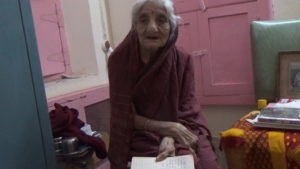 We spoke with her in her room in the Kanya's quarters in the Ashram. She is mostly deaf, but could receive questions via writing. She spoke only Marathi. Auspiciously, we had been directed to her niece, Paru Thakkar, who was visiting the Ashram from Thane near Mumbai. After speaking to her niece, her niece talked to Kanya Lilavani, who expressed that she was excited to talk about this matter. This interview was filmed. I was traveling with Nitin Hopatrao from Ganeshpuri who served as a translator for the meeting from Marathi to English and vice versa.
When Kanya Lilavati was asked for any information she might have about this prophecy by Upasani Baba, she first said, "this definitely happened, He made that statement." This statement was made in 1939, and she came only to be with Upasani Baba in 1940, so she was not there on this occasion. But she said that it was talked about very strongly by Godavari Mataji, the Spiritual successor of Upasani Baba, and head of the Ashram after Upasani Baba's lifetime. She said that Godavari Mataji wanted all of the Kanyadana Kumaris to remember this prediction, and it was considered a very important matter, not something that was just casually said and then forgotten. She said that it was something that was an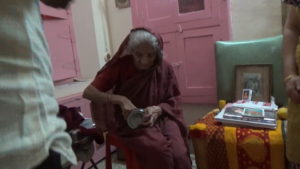 essential part of the understanding of all of the Kanyas.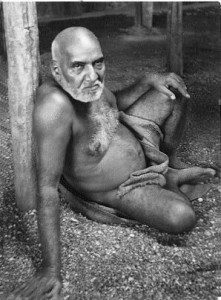 She also said that Upasani Baba himself said that he would be reborn in the United States specifically. "because the people who live there cannot readily come to India to receive the Hindu teaching/Dharma such as the Bhagavad-Gita, I need to go there." Whereas the original prediction made to the Shankaracharya of Jyotirmath, just specifically mentioned a European country, this further prediction of Upasani Baba's own rebirth specifically was relative to the United States. Lilavati said that no particular region of the United States, or any state within the fifty states was mentioned, but the country of the United States was explicitly indicated. I have not seen this in any of the English literature on Upasani Baba.
Sati Kanya Lilavati Upasani Maharaj said that this was common knowledge among the Kanyadana Kumaris around Upasani Baba. She said that hearing that Adi Da had been born in 1939, nine months after Upasani Baba's prophecy, made her very happy. She said this was definitely "all of the same thing." And the fulfillment of the prophecy. She said that the Siddhas were all one and that Adi Da and Upasani Baba were in her understanding the same. She was so pleased to hear about Adi Da, and asked to keep His picture and put it next to Godavari Mataji's in her room. She also happily received a packet of Sacred Ash, or udi from The Mountain of Attention Sanctuary, with Adi Da's picture on the front. (It can be seen in the picture above, in which Kanya Lilavani is reaching into a container to give Prasad in return.)
It was a sweet interview and felt important.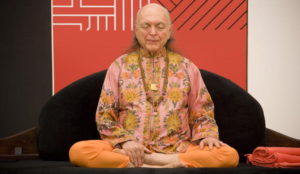 I would like to say something here based on my training by Bhagavan Adi Da relative to the past life associations of His Deeper Personality. Bhagavan Adi Da made it clear to me, that these matters are not about one ego and another ego, or any linear process. And that there could be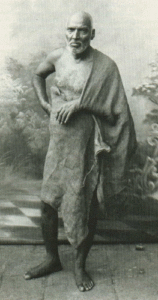 multiple entities involved. So my own speculation as one continuation of the ideas from this interview, is that after Upasani Baba's passing in 1941, some aspect of his deeper personality vehicle could have become associated with that of Adi Da Samraj. I am not wishing to put too fine a point on this. It is something to continue to research and consider. But I have over the years, in doing a great deal of study of the life and personality of Upasani Baba, seen so many similarities of character and connection to our Beloved Bhagavan, that such an association feels natural and auspicious as another past life association with Bhagavan Adi Da's Deeper Personality vehicle. This had been considered previously with Bhagavan Adi Da when He had asked for a consideration of what associations might have been there between July 4, 1902 (the date of Swami Vivekananda's Mahasamadhi) and November 3, 1939 (the date of Adi Da's own Birth). Of course at that time we did not know about Upasani Baba's own prophecy of his own reincarnation in the United States.
OM SRI PARAMA SAPTA-NA ADI DA LOVE-ANANDA HRIDAYAM