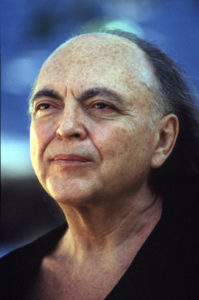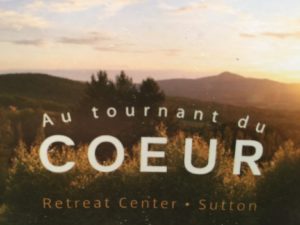 I am here with Christy in Sutton, Quebec. Yesterday we finished a wonderful three day retreat at the facilities, "Turning of the Heart" (Au Turnant du Coeur) here in East Canada. It was an inspiring weekend, full of Bhagavan Adi Da's Influence. We watched videos of Bhagavan Speaking, ecstatically and profoundly. We also listened to Him asking us fiercely and prophetically, when we were going to "grow up", when we were going to "get straight". It was a time of great education and invocation, full of leela and laughter, tapas and tears, as any event or "happening" filled with Adi Da's Presence inevitably becomes. Happy but sober, serious and deep, full of the energy and freedom of straight, close talk.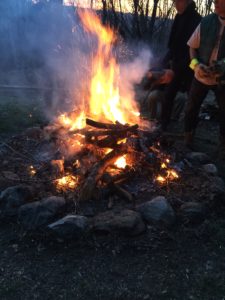 On Saturday night, we gathered around a bonfire in the Canadian pines. It was cold out, but the fire and our intimacy kept us warm. We listened to a tape of Bhagavan Adi Da speaking ecstatically and told leelas.  We did not have a chant leader, but did have a great drummer, and finally mustered out Amazing Grace and then a devotional chant. The conversation became very real when we started to discuss what had just happened with  the Valley Fire, and Cyclone Winston and the status of the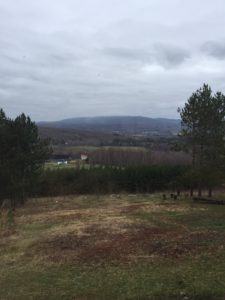 Adidam culture. There were questions and responses from everyone, a sharing of opinions. One person would say something, and another would add their thoughts. It was so liberating to actually have a real conversation about what was going on–how our community was on the edge, how it needed to change, what it would take for us to get right with Bhagavan, what was stuck and where we thought and felt we needed to change to open it up. Mostly we discussed how we needed to really and truly get "down to it" about what was wrong with the present Adidam cultural pattern, and what changes we needed to concretely make. We discussed not just talk but action. But first, no holds barred conversation. The more we talked, the more energy and attention for change and growth was unleashed. The more we understood that the Sangha must get involved, all of us, new devotees and old-timers, men and women both, how we needed to uncover and bring to the front all of the many talents and skills and sensitivities that are there in us as a collective. It felt that a torch was being lit, a torch of free conversation and involvement of everyone. Not wolves and sheep, but everyone involved and everyone responsible, everyone playing their role in the historical event that is the Avataric Incarnation of Adi Da Samraj in this time and place. It was clear to all of us that this real conversation was simply a beginning, and needed to be continued with all of us everywhere often and always be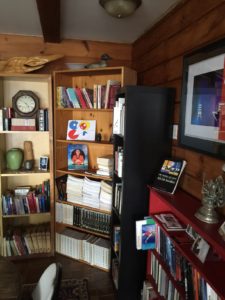 translated into real action. The heart is healed in such real "consideration" or "samyama" on what can be discussed, no fakery or false taboos or putting on the Teaching as if because we could say it, it was true of us. Instead, what action and change is truly required, what gift do we need to manifest through our actions to lay at the Feet of our Beloved. It brings clarity to the being and the freedom of allowing Bhagavan's Empowerment to be manifested in each of us and in our collectives lives. There are no enemies in this conversation, except the ego and Narcissus in each of us. And the hero, the Bright Vision is that of our Bhagavan Adi Da and all of us as His devotees manifesting Him.
So thank you to all who participated this weekend, and gratitude to our Master and His Appearance that brought us all together. May this conversation just be a beginning and go on and on and on to spark the creation of the New Order of Men and Women so dear to the heart of our Beloved Bhagavan Adi Da.  The world is in such need of His Wisdom and His Blessing in this dark and troubled time.