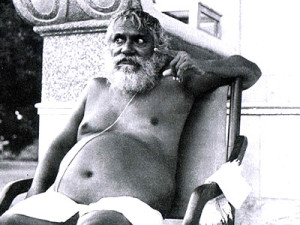 The world calls me mad. I am mad, you are mad, all the world is mad. Who in this world is not mad? Still they call me mad.
Some are mad after name and fame. Some are mad after money. Some are mad after skin. But blessed is he who is mad after God Rama.  I am a madcap of that type.
Those who were mad after the world, did not get the world, though they wondered for ages.
He, who was mad after Ram, merged into Ram and was overflooded by Rama's delight.
I liked not name and fame. I liked not wealth. I liked not fair skin of a beautiful damsel.
In every pore of my being, I liked the Naked Avadhut, Datta and breathed out his name every second of my life.
That path is found only by the guidance of the Teacher. Books are of no avail there.
Rang is mad after the grace of the Teacher. He got incomparable relish in his grace.
from Songs of the Avadhut, translated by Shri Shantilal Thaker, published by Avadhut Parivar, Kampala, 1972